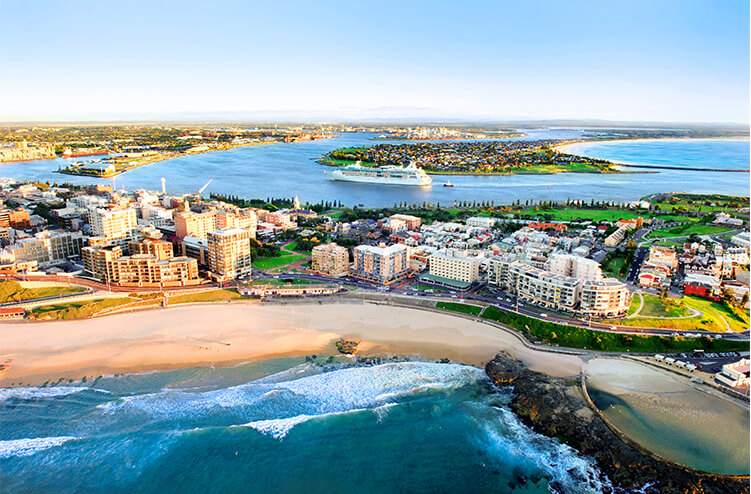 Expressions of Interest- Regulatory, Planning & Assessment
Job No: CNEOIRPA
Location: Newcastle
Play a significant role in planning the growth and development of Newcastle, the Regional City of the Hunter
Gain exposure to some of the largest development projects in NSW and participate in the continuation of Newcastle's transformation
City of Newcastle (CN) is seeking Expressions of Interest (EOI) for passionate and dynamic professionals to be considered for future opportunities within the Regulatory, Planning and Assessment (RPA) team.
What is it like working in RPA?
The RPA team is responsible for leading strategic land use planning, development assessment, regulatory and compliance functions, and processes to facilitate, enable and regulate development and related activities across the Newcastle Local Government Area.
The RPA team manage a wide range of development projects ranging from $800M- $1.2 Billion per year.
The RPA team ensures compliance with legislative requirements, provides advice, and undertakes assessment to inform evidence-based decision making throughout and across City of Newcastle. The team has significant direct community and stakeholder engagement through its land use planning, development assessment and regulatory and environmental functions.
Our people are valued and have access to a range of benefits that help balance life at work and at home. These include flexible working arrangements, professional development opportunities and health and wellbeing programs.
We value diversity of thought, and we focus on equity in the workplace. We are committed to creating an inclusive workplace culture where everyone feels respected, safe, and valued so they can be themselves and fully contribute their opinions.
The RPA team welcome expressions of interest across a range of positions from Graduate through to Leadership within the following service elements:
Urban Planning
Major Project Development
Building Development Assessment
Engineering Development Assessment
Planning Development Assessment
Environmental Health & Protection Assessment
Building Construction Compliance Certification (Fire Safety & Investigations)
Business Administration Support and Land Information
What are the benefits?
35 hour working week with flexible work arrangements including a hybrid working model to ensure you can find the right balance between your personal and professional life!
Optional 9-day fortnight
3 weeks of personal leave each year
17.5% annual leave loading yearly payment
Paid parental leave for primary carers
2 additional paid Public Holidays
Additional paid leave days including Health & Wellbeing, NAIDOC, and Community Volunteer leave
Access to a range of exclusive CN employee benefits programs including Novated Lease options as well as access to reward and recognition vouchers
Annual performance development plans and ongoing training and development opportunities to ensure you continue to evolve and grow your career ambitions
Corporate fitness program from as little as $4.30 per week that will give you and your immediate family members access to a wide range of fitness and aquatic centres
Interested to know more?
To be considered for any upcoming opportunities within the CN RPA team, express your interest by submitting your application.
CN regularly recruit for a range of opportunities via a merit-based process. All expression of interest applications will be reviewed and assessed against the relevant position selection criteria and suitable candidates may be placed on a talent list for a period of 12 months for future positions being recruited.
CN proudly promotes the principles of Equal Employment Opportunity and fosters a culture of diversity and inclusion to represent the community of our Local Government Area.
We are committed to creating a safe and inclusive workplace where diverse styles, backgrounds, experiences, and perspectives are valued, encouraged, and respected. People from diverse backgrounds (including but not limited to, Aboriginal and Torres Strait Islander Australians, people with diverse gender identities and sexualities, people from different cultural and linguistic backgrounds, people with disability, and veterans) are encouraged to apply!
If you need any adjustments to be made to the recruitment process or if you would like to discuss any accessibility requirements, please contact recruit@ncc.nsw.gov.au for a confidential discussion.
You must have the right to live and work in Australia to apply for a job with CN.
CN do not accept unsolicited resumes and we respectfully ask that recruitment agencies do not contact us at this stage.
At CN we understand the skills and attributes veterans can bring to our organisation and highly encourage veterans to apply for suitable roles.